June 12, 2019
Early Registration is now OPEN for the 9th Annual U.S. Poomsae Champions Cup! Set your goal to compete now, register today and save! We hope to see past participants as well as meet new participants again this year! Join us on Saturday, September 14th!
Click Here for Detailed Information
Click Here to Register!
Click Here for Coach's Registration!
Click Here to Register to Referee/Judge!
Map of IMMI Campus & Conference Center Parking
Hotel Options Near IMMI Conference Center
—————————
January 23, 2019
This is to announce the 9th Annual U.S. Poomsae Champions Cup on Saturday, September 14, 2019 being held again at IMMI Conference Center in Westfield, IN! Wishing you the best in 2019 and hope you will join us again in September!
September 19, 2018
Thanks to all participants for another great competition last Saturday! We hope you enjoyed your experience and were able to establish a benchmark and set some new goals! Good luck this Fall and into 2019 as you train and compete at other events!
Best wishes to our 2018 U.S. National Team Members who competed at this year's event at the upcoming World Poomsae Championships in Taipei in November! Thanks for performing and setting such a great example!
Erica Linthorst – Female Master 4 Division
Kristi George – Female Master 2 Division
Master David Turgeon – U.S. Team Coach
Master Ron Southwick – U.S.A. Head of Team
Results will be posted in the next few days, so be sure to check this page. We are also finalizing next year's U.S. Poomsae Champions Cup date as well as dates for the U.S. Poomsae Champions Sport Poomsae Camp next Spring! Stay tuned!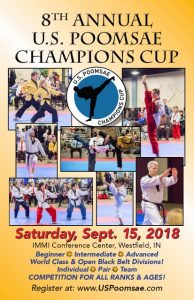 September 11, 2018
Please note the following regarding World Class Black Belt Poomsae Selections. The order of poomsae listed is set. However, the number of poomsae competitors (listed right below the division name) could possibly increase or decrease. Be prepared to do an extra round in the event your division number increases.
World Class Black Belt Poomsae Selection
Please review the Spectator Guide and Tentative Schedule for additional important details about this Saturday! Please arrive AT LEAST 30 minutes prior to your scheduled time.
2018 Spectator Information & Tentative Schedule
Complete Details
Competition Venue & Hotel Info
Dear Taekwondo Family,
It is my pleasure to invite you to our 8th Annual U.S. Poomsae Champions Cup being held at IMMI Conference Center (18880 N. East Street Westfield, IN 46074) on Saturday, September 15, 2018!
Our event will offer those familiar with the WT system and standards an opportunity to compete and practice for the U.S. Open, U.S. Nationals, Team Trials, and other international events. Head – To – Head Format will be used again this year for World Class Black Belt Divisions!
Head – to – Head Format Details for World Class Black Belt Divisions
All other divisions – Color Belts, Mixed Pairs, Mixed Teams, and Black Belt Open divisions will use the Cut – Off format that we have used in previous years.
Black Belts will choose EITHER World Class Division OR Open Division in which to compete individually. We encourage Black Belts to compete in Mixed Pair and Mixed Team Categories for additional experience and for FUN!
In addition to Individual competition, there will be competition divisions for Mixed Pairs (2 people) and Mixed Teams (3 people) for ALL AGES, RANKS, and LEVELS! This is a great way to compete and develop camaraderie among family and friends! ANY combination of age, rank, or gender may participate in these OPEN divisions in which they pick their two poomsae!
We are privileged to have several outstanding poomsae judges, including International Poomsae Referees, participating at this year's event! Scoring will be done electronically using Poomsae Pro (the same system used this year at the USAT Nationals in Salt Lake City, UT), and athletes will be able to immediately know their standings in a given round as well as their final placement.
For those who have attended in the past, we plan to organize the event the same as in past years regarding the schedule.
Mark your calendar, register now, and join us on September 15th!
Regardless of your age, rank, or poomsae level, you will gain valuable experience and learn more about yourself while having a great time!
Please contact me by phone 317-841-8000 or email info@ktausa.com with your questions.
Thanks in advance for your support!
Sincerely,
Master Garth Cooley, Director
U.S. Poomsae Champions Cup – Saturday, September 15, 2018
317-841-8000
——————————————————————————————–
December 20, 2017
Mark your calendars today and plan for our 2018 events!
U.S. Champions Midwest Regional Sport Poomsae Camp – Friday, Saturday, and Sunday – March 23, 24, & 25 – KTA (Indianapolis, IN)
8th Annual U.S. Poomsae Champions Cup – Saturday, September 15 – IMMI Conference Center (Westfield, IN)
Additional information will be posted here in the coming months. Please check back periodically.
Please contact us if you are interested in a Poomsae Seminar for your school or organization. Click the "Seminars by Master Cooley" tab above to learn more.
————————————————————————————————————-
October 29, 2017
Thanks to all 2017 U.S. Poomsae Champions Cup participants for a great day yesterday!
Congratulations to all competitors on your performances! Regardless of your placement, you all gained and grew.
Coaches and families-thank you for your continued support and dedication to your special competitors!Special thanks to International Referees-Master David Turgeon, Master Brian Jang, and Mr. Eric Gilson for your leadership of our officials which ensured consistent scoring and judging throughout the day.A BIG thanks also to all KTA families and friends for working cohesively to host a first-class event!We hope to see everyone back next year! 2018 date TBA soon!
—————————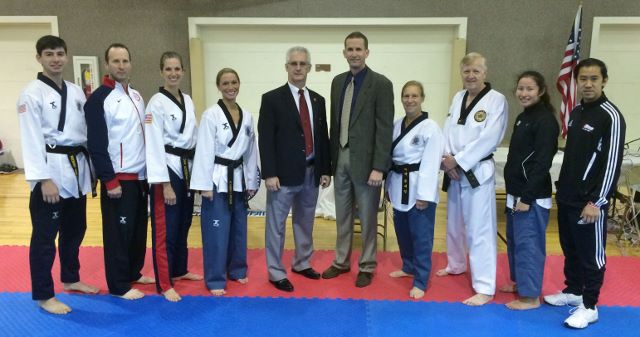 Several U.S. National Poomsae Team Members and Coaches – past and present – attended the 2014 U.S. Poomsae Champions Cup to support Master Cooley.
————————————————————————————————————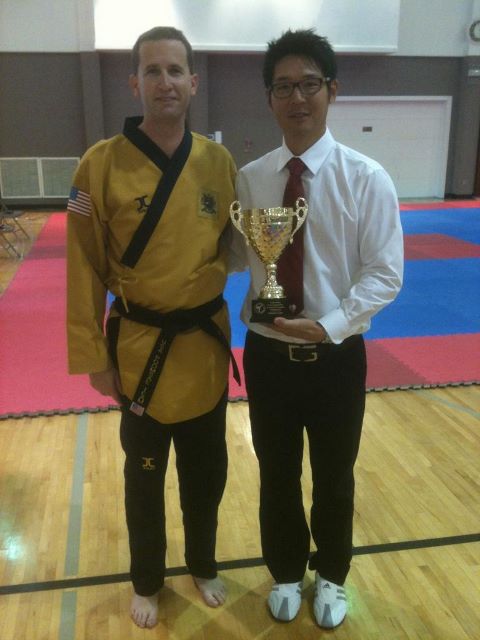 Ko's Martial Arts – Columbus, IN – was recognized as the "Most Supportive School" at our event.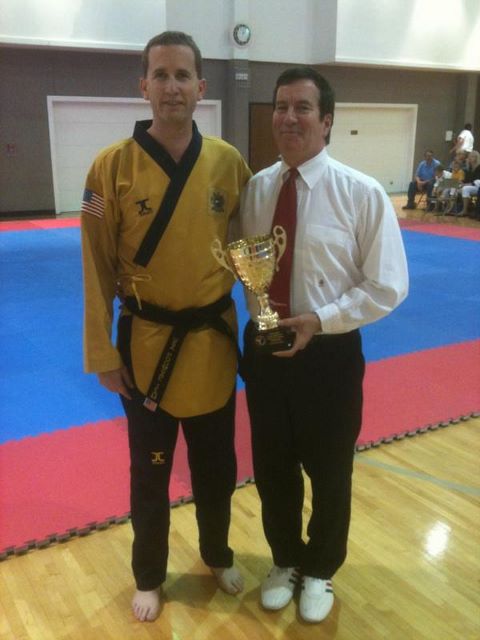 International Referee Master John Connors – Philadelphia, PA – was recognized for his continual dedication to the U.S. Poomsae Champions Cup.
The U.S. Poomsae Champions Cup is the premiere WTF Poomsae competition in the Midwest! It is hosted by Korea Taekwondo Academy and directed by U.S. National Poomsae Team Member Master Garth Cooley.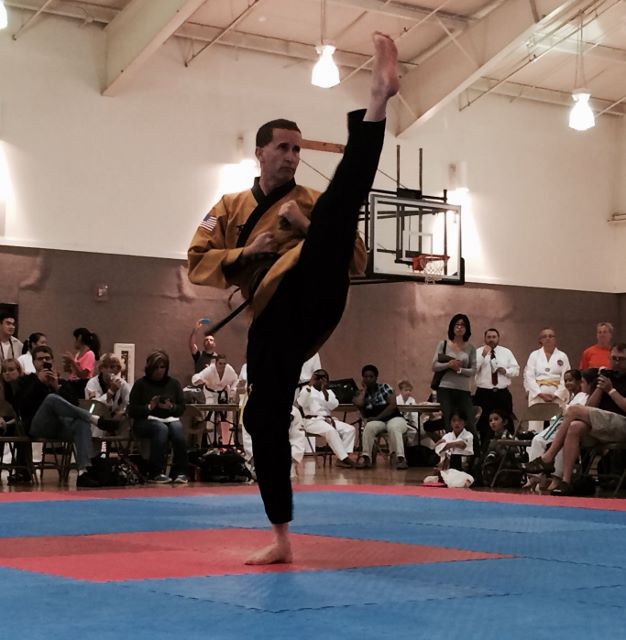 Master Cooley demonstrates at the 3rd Annual U.S. Poomsae Champions Cup