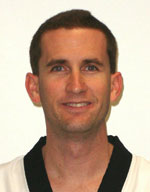 Grand Master Garth A. Cooley
Founder and Director of Indy Cup Taekwondo Championships 1996 – 2014 Founder and Director of U.S. Poomsae Champions Cup since 2011
Grand Master Garth Cooley, an 8th Dan Kukkiwon Certified Black Belt, has been practicing Taekwondo since 1981 under the direction of Grandmaster Chul Koo Yoon – Founder of Korea Taekwondo Academy (KTA). He is a graduate of the University of Indianapolis where he majored in Business Administration and double minored in Marketing & Economics/Finance. He has been teaching Taekwondo full time since 1995 and part time since 1985. Grandmaster Cooley has instructed and promoted over 500 KTA students to the Black Belt level. Each year, Grandmaster Cooley and staff strive to provide a tournament with the most current rules with the goal of preparing athletes for National and International competition; giving them the best experience possible. Grandmaster Cooley successfully competed and represented Indiana and the United States since the mid-1980s. His accomplishments include:
Eight – time Indiana State Champion (1986 – 1993)
Two – time U.S. National Champion (1989 & 1993)
Three – time US National Team Member & Team Captain (1989,93-94)
Two – time U.S. Olympic Festival Champion (1990 & 1991)
Two – Time National Collegiate Silver Medalist (1989 & 1990)
National Collegiate Taekwondo Team Captain (1990 – 1991)
Grandmaster Cooley also qualified and competed at both the 1988 and 1992 Olympic Team Trials. In 1993, Grandmaster Cooley was awarded the United States Male Athlete of the Year for Taekwondo by the United States Olympic Committee. Internationally, Grandmaster Cooley won Bronze medals for the United States in the following championships recognized by the World Taekwondo Federation (WTF):
1989 World Games (Karlsruhe, Germany)
1994 Pan American Taekwondo Championships (Heredia, Costa Rica)
1994 Goodwill Games (St. Petersburg, Russia)
1994 IOC Centenary Seoul International Taekwondo Championships (Seoul, Korea)
Additionally, he represented the United States at the 1990 World Collegiate Taekwondo Championships (Santander, Spain), 1993 World Taekwondo Championships (New York, USA), and 1995 Pan American Games (Mar del Plata, Argentina).
After retiring from sparring competition in 1995, Grandmaster Cooley began focusing his energy on his do-jang and students, as well as the overall development of Taekwondo as a martial art and sport in his community. He served as the Indiana State Taekwondo Association President of USTU (now USAT) from 2000-2003 where he and his dedicated administration significantly increased membership and participation in Indiana. Indiana was recognized with awards by USTU including: Best Dressed State at the Junior Olympics (2000) and the Presidents Award in both 2001 & 2002. Grandmaster Cooley has also written articles both as an athlete and as State President that have been published in the USA Taekwondo Journal. In 1998, Grandaster Cooley was awarded "Instructor of the Year" by USA Taekwondo for his leadership, support and development of Taekwondo.
GrandmMaster Cooley participated in the 43rd WTF International Referee Certification Seminar in 2002 in Quito, Ecuador. He successfully passed all the requirements becoming certified as an International Referee (IR-3). He has taken the knowledge acquired from this and other educational opportunities and passed it on to his students and other members of the Taekwondo community with the continual goal of ringing the art and sport of Taekwondo to a higher level in his region. Grandmaster Cooley has coached and developed athletes and has produced countless state and regional champions over the past two decades. Additionally, his students have won National Collegiate Championships and medaled at U.S. Nationals, Junior Olympics and the U.S. Open. Grandmaster Cooley's goal is to see his students excel and become more successful than him both competitively and in life.
Due to his strong belief in the importance and value of Poomsae practice and competition, Grandmaster Cooley entered the 1at U.S. National Poomsae Team Trials in 2006 and was successful in making the 1st U.S. National Poomsae Team which competed at the 1st World Poomsae Championships in Seoul, Korea in September of 2006. Although no athlete from the U.S. medaled, Grandmaster Cooley was one of two United States team members to advance past the preliminary round of this historical event.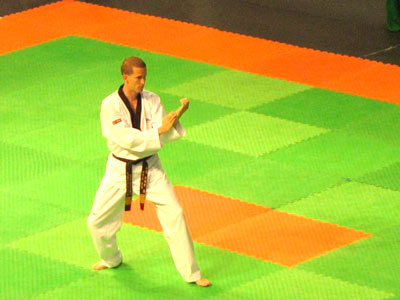 Grand Master Cooley competing at the 1st World Poomsae Championships (Seoul, Korea – September 5, 2006)
The experience at the 1st World Poomsae Championships motivated Grandmaster Cooley to continue competing and improving himself. Since that first experience, Grandmaster Cooley has continued to grow and improve in poomsae competition. He has represented the United States seven times at the World Poomsae Championships from 2008 – 2015 in various divisions each year – Individual, Pair, and Team – as well as been the U.S. Poomsae Team Captain. Grandmaster Cooley is one of very few individuals in the United States who holds the distinction of having represented our country in both Poomsae (forms) and Kyoroogi (sparring) at an offical World Taekwondo Federation (international) level.
Grandmaster Cooley and his wife, Julie, married in 1994. They are blessed with two beautiful children, Grant and Jillian. He considers family and faith his first priority and cherishes the time spent with his wife and children each day.
From the early 1980's through the mid-1990's, Grandmaster Cooley competed and won dozens of local and regional Taekwondo competitions in sparring, form, and board breaking events. This included eight consecutive Indiana State championships from 1986 -1993; two National Championships in two different weight classes; two U.S. Olympic Festival Gold Medals; and spots on the U.S. National Taekwondo Team in 1989, 93, 94, & 95. Below is a list of his accomplishments in national and international Taekwondo events.
National & International Forms Records (2006 – Present)